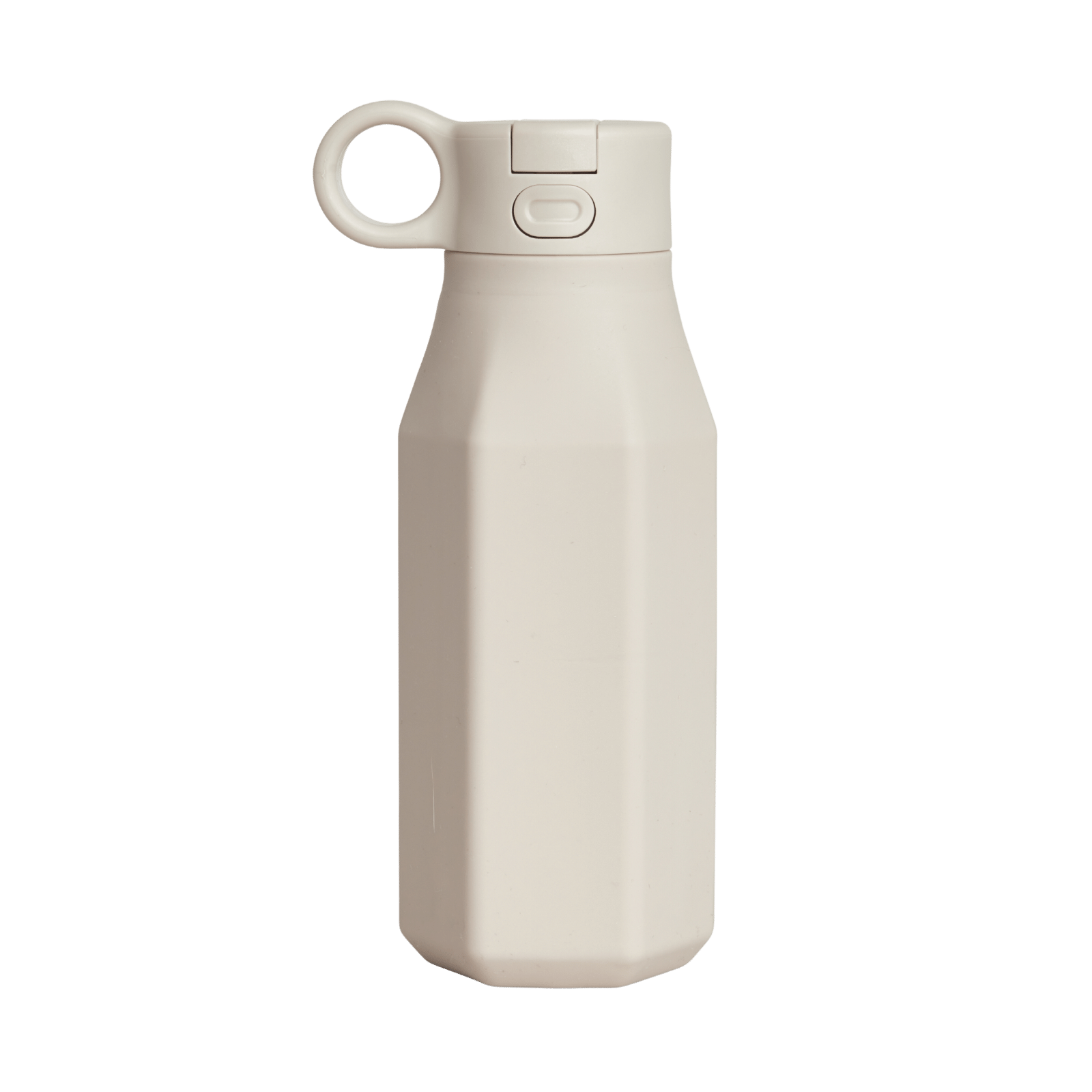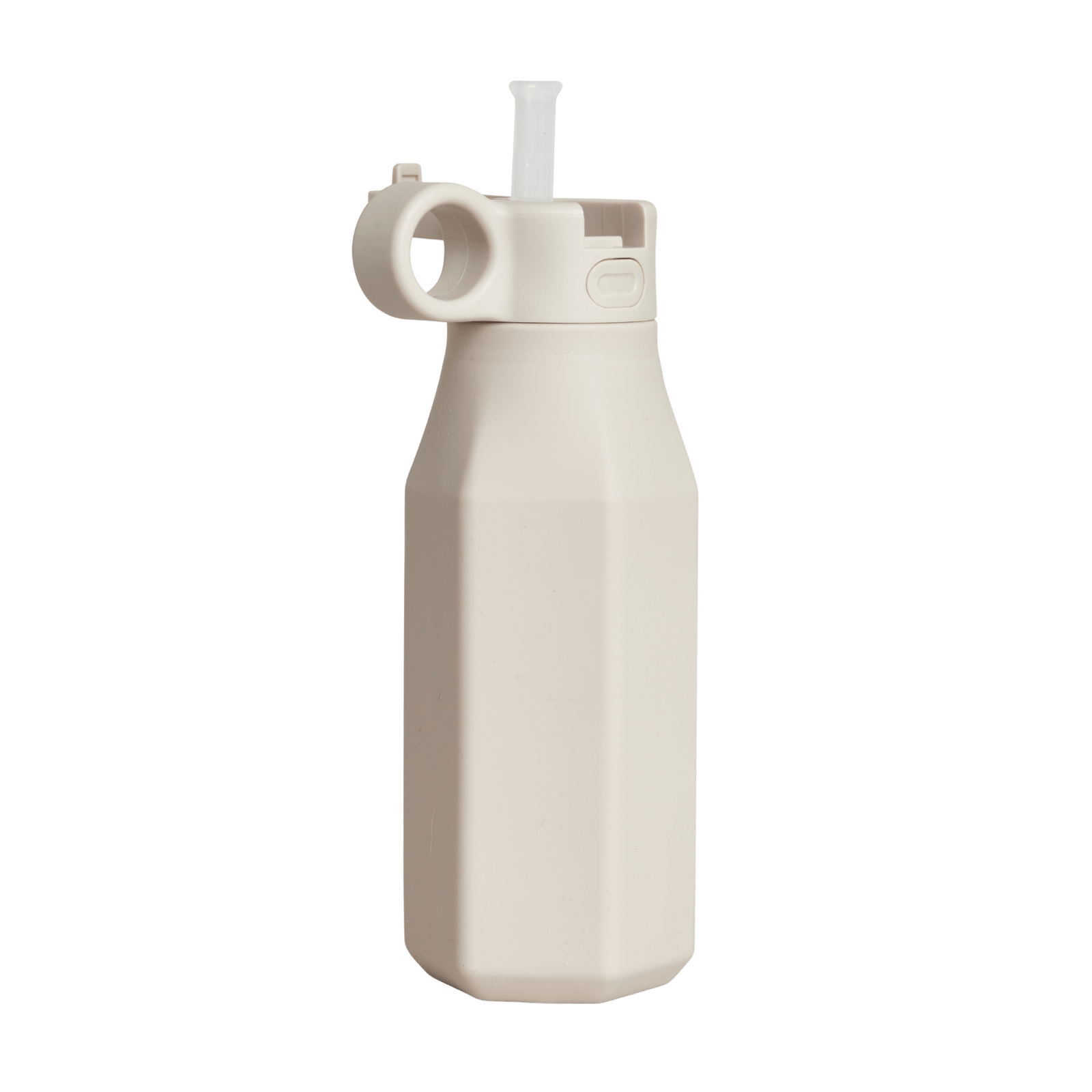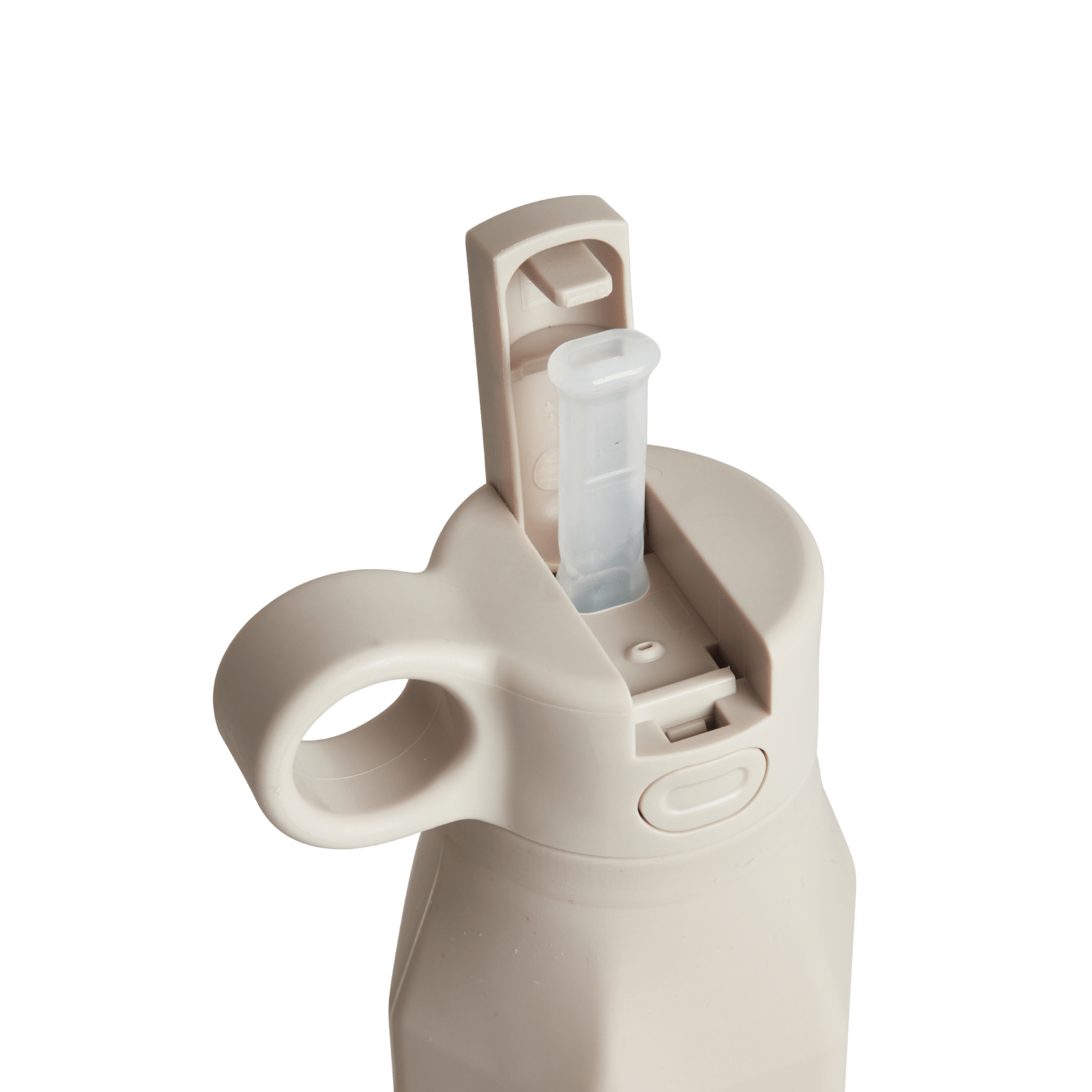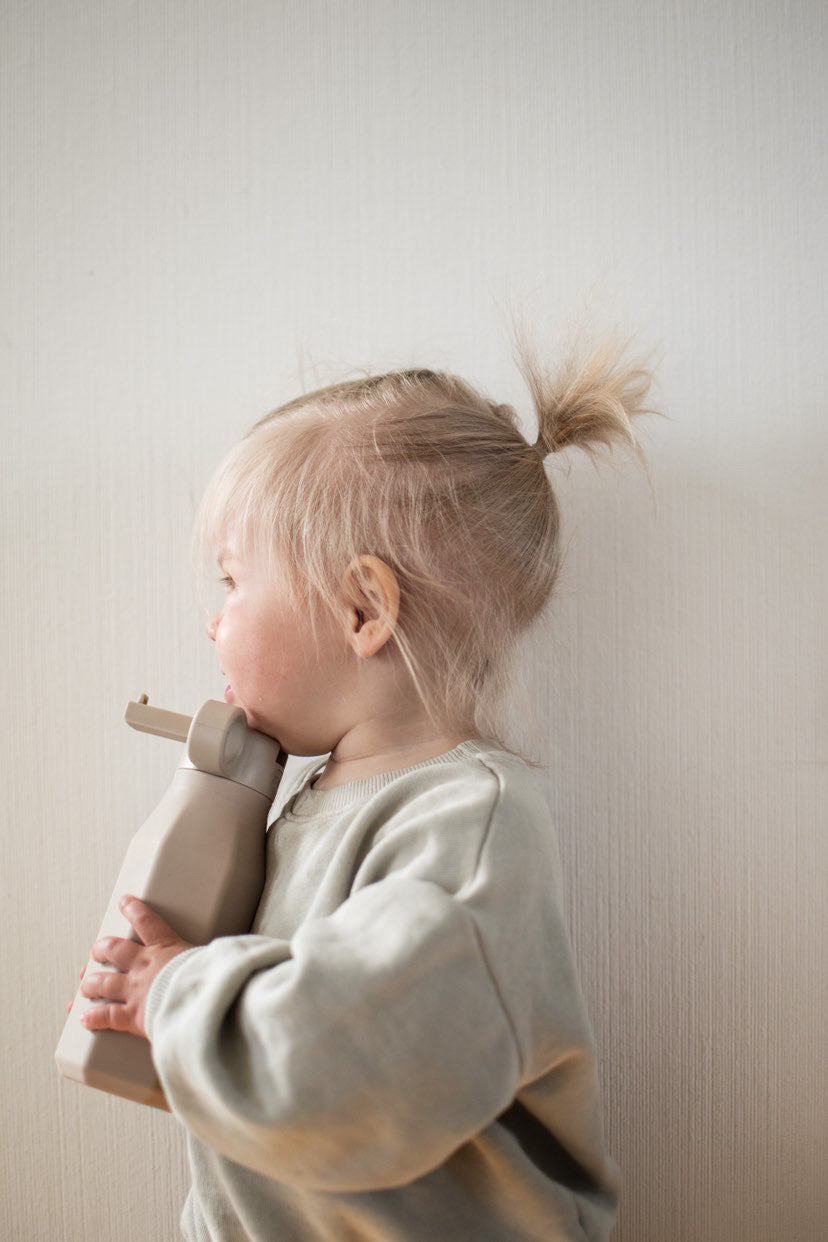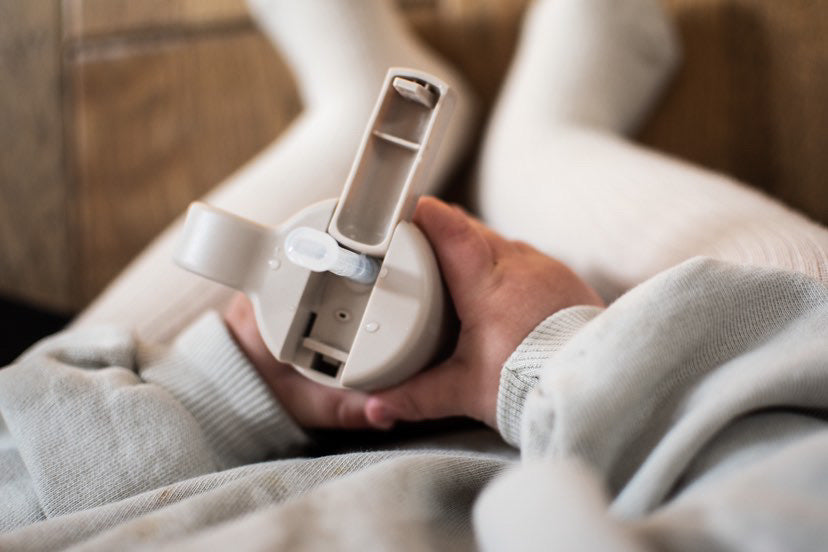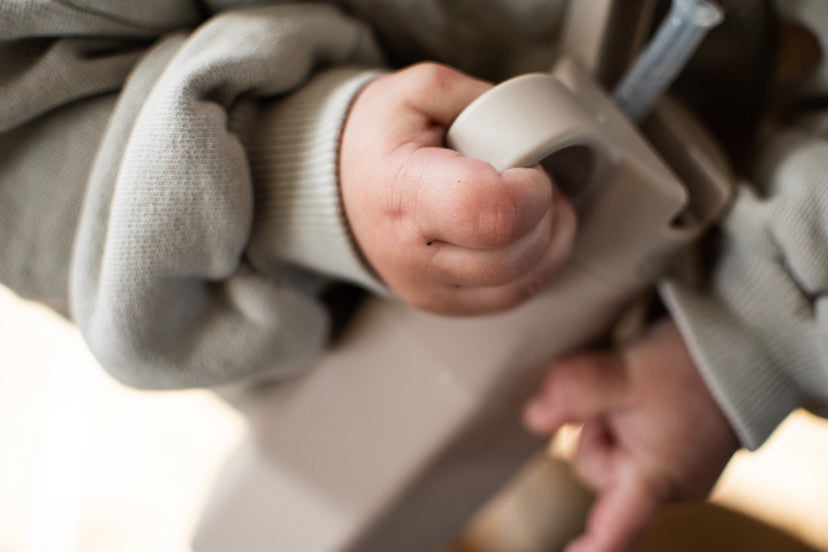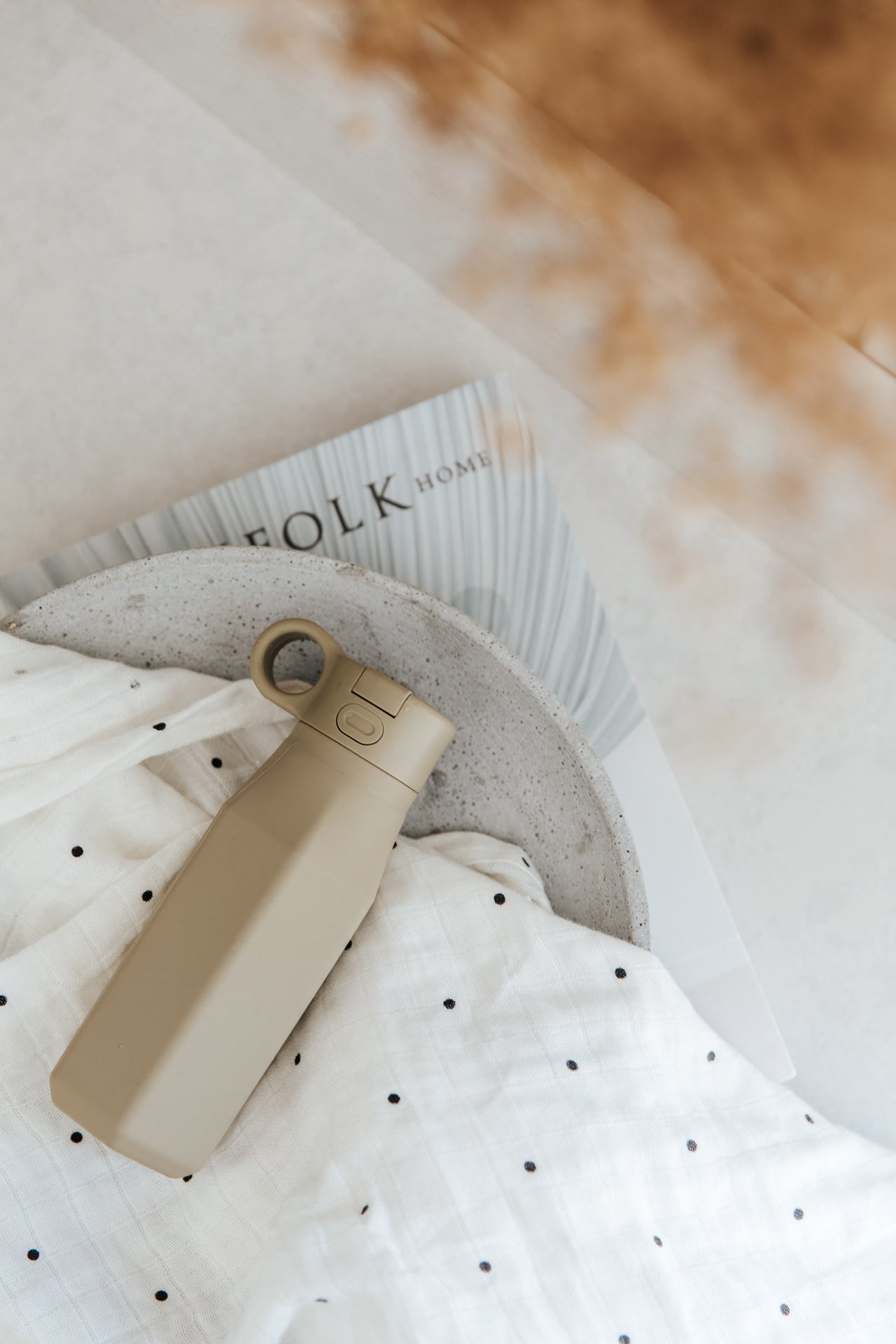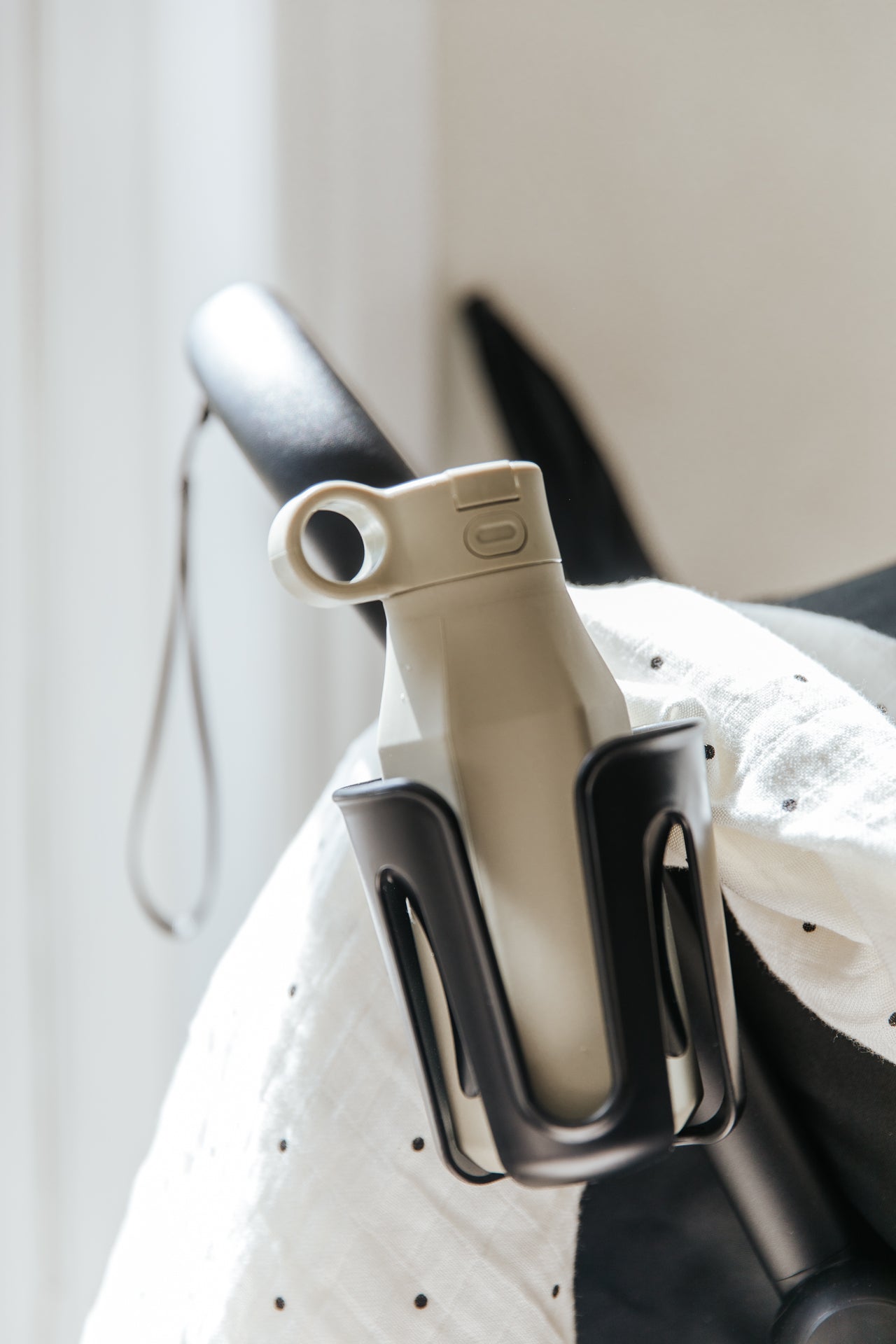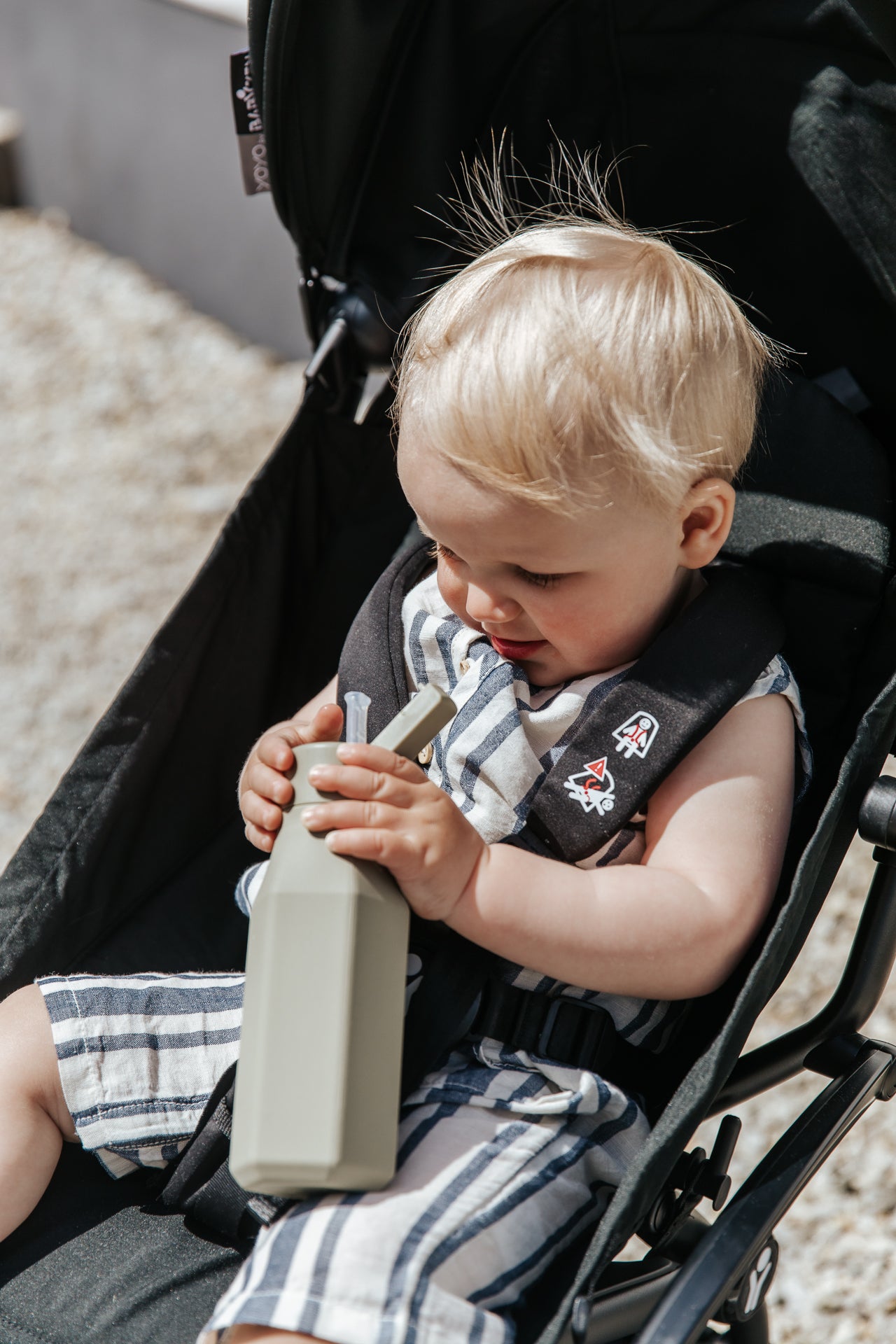 Description
Features
Specifications
Care & Safety
Water Bottle Sand
Even the most everyday objects can get a touch of style! The coolest water bottle for the most stylish kids! Our hexagon designed water bottle is so minimalistic and simple in its design that it can be used by both parents and children.

It is made of smooth, lightweight and soft-to-the-touch food grade silicone. The "spout" of the bottle is made of a soft bendable silicone straw so it does not damage sensitive teeth and gums. It is especially good if your child ever falls while drinking from a bottle, preventing any injury, as a hard plastic spout would.
A convenient little handle is on the side so you can carry it around easily and attach it to your bag or strolle. Also, more good news is that it is leakproof, so you can be sure it won´t leak in your bag. It´s basically shatter-proof as well, and it won´t crack when dropped so you can be sure it´ll survive when thrown on the floor.

Also, it is very easy to clean – no need to worry about taking the bottle completely apart and removing many parts and pieces to clean, which eliminates the risk of getting mould. The bottle does not leak chemicals into your water like some plastics would and will not retain flavours or smells from previous drinks like metal bottles would.
Get hydrated in style and let's say goodbye to single-use water bottles!
• Recommended age: 12 months +
• BPA free
• Non-toxic and hypoallergenic
• Leak-free
• Easy to clean
• Unbreakable
• Easy to grip
• Lightweight and durable
• A straw cleaning brush is included


• Dimensions: 19 x 7cm
• Volume 350 ml.
• Material: food grade silicone
• Material lid & long straw: PP
• Temperature: -40°C (-40°F) to 230°C (446°F)
• Meets the EU requirements EN 14372
• Designed in Sweden
• May be 100% recycled at select locations and is considered non-hazardous waste



• Suitable for children from 12 months+
• To be used only under adult supervision
• Discard at the first sign of wear or damage.
• Wash thoroughly before first use.
• Sterilize by boiling 15 minute without cap
• Dishwasher safe (top rack) or hand washed.
• Microwave safe.
• Check temperature of food before feeding.
• Please see our Care & Safety page for more detailed info


We've made this product
Chemical-Free
Free of BPA, PVC, phthalates, lead, cadmium and other hormone-disrupting chemicals.
Durability
When you buy our high-quality silicone products, you can be confident that they will hold the test of time and the cost per use will justify the investment. They will not warp, break, crack or get chipped compared to other materials, giving silicone products a long lifespan and making them more sustainable. This durability together with our idea of gender-neutral colours makes our tableware perfect for handing down to your next child or to the next generation or for upcycling.
Not All Good Things Must Come to an End
When properly cared for, your Atelier Keen products will last for years but they´re also great to upcycle! By prolonging the lifetime and usage of each product, you'll lower its environmental impact significantly. It´s always better to keep them in use and give them a second life! Here´s an idea! How about stocking your toddler's play kitchen with a set of outgrown tableware for their imaginative play. They can pretend having a coffee shop and having tea parties serving they're very important guests (stuffed animals). Remember, they're even dishwasher safe, in case your kid happens to eat a real snack off them, too.
Majblomman
Alongside our passion for design, we are also committed to helping underprivileged and disadvantaged families and children. A generous part of our profit will be donated to the Swedish organisation Majblomman and their important work.